26.06.2013
Festival is coming!
Tickets for the performances are available here: PILETILEVI
T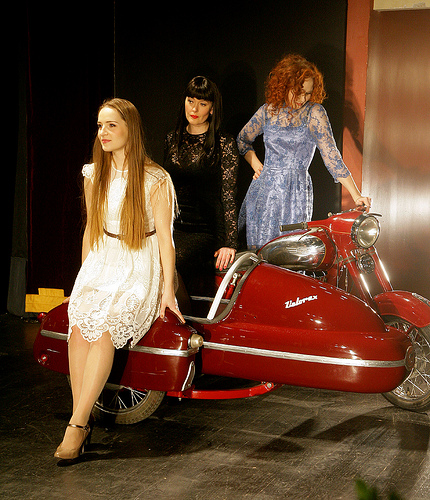 he theme of the theatre festival Draama 2013 which celebrates its 10th jubilee in September is The Magic of Space.
According to the curator Iir Hermeliin, the magic of space does not mean an illusory stage which is created to trick your eyesight. For her, the notion denotes a self-breathing macro world which has its own rules. It is a space governed by a twisted reality where everything can happen and where the rules of physics do not always apply. The magic of space is a special kind of innate performance space - the something which arises from a successful collaboration between the theatre hall, director, designer, composer, lighting designer, actors and other creators.
"I think of the festival as a performance where the central task of the director is to find the right stories and engage them in a dialogue which results in a week-long whole for the audience. The creative board, who helped me make my decisions, was also chosen with the aim of forming a team which is creating a performance – a director, designer, playwright and two theatre theorists," explains Iir Hermeliin, who works as a set designer. This year's festival board consists of the director Aare Toikka, designer Kristel Maamägi, playwright Siret Paju and theatre theorists Ott Karulin and Kristiina Garancis.
The eight performances of the main programme which were chosen based on the magic of space concept are "Three Sisters" (director Hendrik Toompere, designer Ervin Õunapuu, video designer Taavi Miisu Varm; Estonian Drama Theatre), "The Big Feast" (director Lauri Lagle, designer Laura Kõiv; Theatre NO99), "Wasteland" (director Marat Gatsálov (RUS), designer Oksana Peretruhhina (RUS); R.A.A.A.M), "Hamlet Anderson" (director, designer and sound designer Andres Noormets, video designers Taavi Varm, Maarja Noormets and Kristo Viiding; Endla Theatre), "Heart of a Dog" (director Natalia Lapina (RUS), designer Rosita Raud; Russian Drama Theatre of Estonia), "Faust" (director Aare Toikka, composer and designer Kaspar Jancis; VAT Theatre), "Bistro Beyond"(director Linnea Happonen (FIN), designer Kristel Maamägi; Piip and Tuut Theatre), "Mary Stuart" (director Roman Hovenbitzer (GER), musical director Mihkel Kütson, designer Roy Spahn (GER), lighting designer Palle Palme (SWE); Theatre Vanemuine).
In addition to that, a programme which uncovers the secrets of the magic of space and concentrates on the work of set designers will run parallel to the main programme. One of the largest and more important parts of this programme is the pop-up cluster exhibition curated by Maret Kukkur which brings the solo exhibitions of 27 set designers into the urban space of Tartu in a gallery made of containers. The exhibition celebrates the 20th jubilee of the Association of Estonian Set Designers.